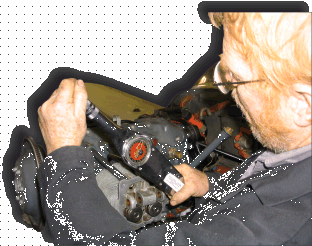 Home of the "Sterling Service Maintenance Package"

In business for over 20 years, Sutton Aviation is a maintenance facility for general aviation aircraft, and is based at the Smiths Falls/Montague Airport in Smiths Falls, Ontario. Normal wear and tear parts are kept in stock.

Formerly maintaining a fleet of Cessna aircraft and approximately 100
privately-owned Cessna, Piper, Beech, Mooney and Ercoupe aircraft,
the company is known for reliability, safety
and "Sterling Service".

With a total or more than 50 years of
experience, our staff of Red Sutton
(Director of Maintenance) is very
knowledgeable. Our friendliness attracts
people who drop in to visit and customers
also enjoy dealing with Red and Office
Manager Jane Sterling.

Smiths Falls Flying Club is a friendly training school with a club of owner and renter members. The Club offers instruction and sightseeing tours, as well as tie-downs and hangars for owners to secure their aircraft. The friendly atmosphere attracts pilots and non-flyers alike, who drop in to visit.

Please feel free to come by for a visit.